Camp Lejeune Water Contamination Lawsuit – Claims for Veterans and their Families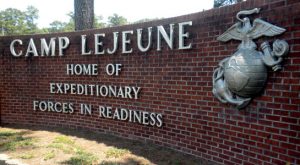 For nearly four decades, people living or working at the U.S. Marine Corps Base Camp Lejeune in North Carolina were potentially exposed to contaminated drinking water that caused various forms of cancer along with other serious health problems. Various chemicals, including Benzene, Trichloroethylene (TCE), Perchloroethylene A/K/A Tetrachloroethylene (PCE), 1,2-Dichloroethylene (DCE), and/or Vinyl Chloride were the Volatile Organic Compounds (VOCs) found in the Camp Lejeune water.
Several health problems have been reported in people of all ages who were exposed to the contaminated water, including children who were exposed while in their mother's womb. Through drinking, bathing, cooking, or cleaning, the contaminants are linked to the following health complications:
Bladder, Lung, and/or Breast Cancer
Non-Hodgkin's lymphoma
Leukemia (infant)
Major heart, eye, neural tube, and/or oral cleft defects
Choanal atresia (narrowing behind the nasal cavity, causing difficulty in breathing)
In 2017, the Veterans Administration with the assistance of the Obama administration put into effect a disability claims process for exposure to Camp Lejeune's contaminated water from August 1, 1953, to December 31, 1987. The following eight conditions are eligible for a presumptive service connection:
Parkinson's disease
Multiple myeloma
Adult leukemia
Aplastic anemia and other myelodysplastic syndromes
Bladder cancer
Kidney cancer
Liver cancer
Non-Hodgkin's lymphoma
Veterans, their loved ones, and other civilians who lived and worked on the Camp Lejeune base have suffered from exposure to the drinking water's toxins. The Camp Lejeune Justice Act was introduced to allow reparations for the former North Carolina military base residents. As of June 16, 2022, the United States Senate voted to pass the act as a federal mandate to allow victims of the contaminated water to seek the justice they deserve. This bill is expected to be signed by President Biden as soon as next week, making it signed into law. The signing of the Camp Lejeune Justice Act will allow those who served, lived, and/or worked on the base for at least 30 days to have access to court systems and exercise their constitutional right to seek legal action against our U.S. government for contaminated water exposure at Camp Lejeune.
Any Marine, spouse or ex-spouse* (conditions apply), biological child (alive or in utero), or legal dependent training, working, and/or living at Camp Lejeune from 1953-1987 for a minimum of 30 days and diagnosed with one of the VA presumptive service connection eligible diseases is a potential claimant.
The attorneys at Broussard, David & Moroux have the knowledge and experience necessary to handle Camp Lejeune Water Contamination case reviews and will fight to obtain fair compensation for the harm of yourself or your loved ones. If you or a loved one has suffered harm from contaminated water, contact the attorneys at Broussard, David & Moroux to discuss your legal rights at (337) 233-2323 (local) or (888) 337-2323 (toll-free).